Why You Should Use Copper-Free Antifouling Paint on Aluminum and Underwater Metals
If you have a pontoon boat or other boat with an aluminum hull, it's very important that you do not apply a copper-based antifouling paint to the hull bottom. Most antifouling paints contain copper because it's an effective biocide that prevents slime and shells from attaching and potentially destroying your hull.
However, copper will react with and destroy your aluminum hull, causing galvanic corrosion. The proper antifouling paint for aluminum bottoms contains a copper-free biocide such as Econea™. There are also copper-free antifouling paints made to protect outdrives, trim tabs and other underwater metals.
Here are some non-paint related ways to prevent galvanic corrosion:
Avoid contact with dissimilar metals without proper insulation.
Electrically isolate all fittings from each other, even on small boats.
Do not paint anodes or grounding plates.
Never exceed 1,000 minivolts of impressed current voltage when protecting aluminum.
Any scratches in paint on metal must be dealt with appropriately to prevent further corrosion or paint peeling.
Never use an automotive battery charger aboard a boat, especially an aluminum boat.
Paint only with primers and coatings designed for the particular metal the hull is made of.
If using an aluminum boat in saltwater, always rinse thoroughly with fresh water after use.
Applying Antifouling Paint to Aluminum Boats
Aluminum fishing and pontoon boats are popular because they're lightweight, great for maneuverability in shallow waters, and don't need much maintenance. But your maintenance routing should include priming and painting your boat to prevent corrosion and fouling. Here is a step-by-step guide on how to correctly prep, prime, and paint your aluminum boat.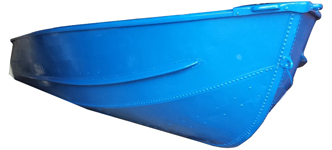 For best results painting your aluminum boat, you need to do a little prep work first. Surface prep includes sanding down to the primer or bare aluminum surface. Scrape off all loose paint including any gloss by lightly sanding or power brushing the areas. We suggest using 80-100 grit sandpaper.
After sanding, clean the entire surface using compressed air or a cloth. The surface will not be 100% clean at this point. Remove any remaining dust, dirt, or grease using a clean rag dampened with a dewaxing solvent. This solvent-wipe will eliminate surface contaminants so that the primer and antifouling paint will adhere properly to the aluminum surface.
Next, use an epoxy primer such as TotalBoat TotalProtect Epoxy Barrier Coat Primer or TotalBoat 2-Part Epoxy Primer. Epoxy primer is suggested because of the superior adhesion and corrosion protection qualities. If a waterproof barrier is desired, use TotalProtect Epoxy Barrier Coat Primer; apply four to five coats before overcoating with antifouling paint.
When applying the primer by roller, it's best to apply thinner layers and to fix areas while the primer is still wet. Rolling over cured areas can rip the primer off.
Between coats, pay attention to the recoat window, which is 2-48 hours with TotalProtect.
It's also very important to know the overcoat window and stay within it when applying antifouling paint over the primer. Typically, you will apply the first coat of antifouling paint when the primer is "thumbprint tacky", which means you can make a thumbprint in the primer film, but the primer doesn't come off on your thumb.
If the primer sticks to your thumb, it's too soon to overcoat. If you can't make a thumbprint at all, you've missed the overcoat window. In this case, just abrade the surface with 80-grit sandpaper and solvent-wipe before applying the antifouling paint.
After mixing your antifouling paint thoroughly, start by brushing all the small and curved surfaces like fittings first. This will make rolling the rest of the boat's surface much easier. Reapply at least one more coat to help ensure maximum effectiveness of the antifouling paint.
For helpful answers about antifouling paint, please call our bottom painting experts at 800-497-0010 or email us at tech@jamestowndistributors.com. You can also fill in the Contact Us form and your question or request will be forwarded to our Total Support Team.