Placing most of your attention on the paint above the waterline will make your boat look beautiful, but it's more important to pay attention to what's going on below the waterline. When choosing a bottom paint, it's important to understand the advantages of the different types of antifoulants. There's much more to choosing bottom paint than just the price tag.
Fouling organisms such as shells, weeds, and slime can harm the structural integrity of your boat hull, which can lead to more expensive repairs down the road.
Excessive marine growth on the bottom of your boat can also increase your fuel bill because the engine has to work harder to move the boat through the water. Even worse, biofouling can make maneuvering more difficult—which can be dangerous.
The best solution to fighting fouling organisms is to treat the boat hull with an antifouling paint. This Boat Bottom Paint 101 guide describes the different types of antifouling bottom paints to help make your decision and purchase as pain-free as possible.

When choosing antifouling paint, it's important to understand the advantages of the different types of antifoulants. There's much more to choosing bottom paint than just the price tag. It's important to consider what type of boat you're painting (power or sail), the amount of time the boat spends in the water and whether it will be trailered, how often you use your boat, what type of water your boat floats in, and how often you want to apply bottom paint.
Knowing more about your boat and home waters will help you easily purchase the best bottom paint for your boating lifestyle. The best source of information is boatyard professionals and other boaters in your area.
If you have questions, read our bottom paint study and survey, or call and talk to one of our bottom-painting experts at (800) 497-0010. We're always here to help!
Types of Antifouling Paint

Ablative and self-polishing paint is known for being more efficient because there is a higher and longer delivery of biocide compared to hard antifouling paint. Ablating is the process of how the paint wears away after time which will prevent organisms from attaching to the hull. That is why the more coats of ablative paint you apply, the longer it will be between painting periods. Three types of ablative paints that wear away in entirely different ways are controlled solubility copolymer, self-polishing, and hybrid ablative paint. All antifouling paints will work in certain conditions, but what works well in your harbor really depends on water temp, current, fresh water outflows, and how often you use your boat.

Controlled Solubility Copolymer Paint is used in areas with high amounts of fouling. Much like how a bar of soap wears away, the physical action of water against the hull will slowly wear away the paint and expose fresh layers of biocide. The wear of the biocide will depend on drag of the hull. If you remove the boat from the water for more than two weeks during the season, you will have to reactivate the biocide's effectiveness by scrubbing lightly with a Scotch-Brite pad before placing your boat back in the water.

Self-Polishing Copolymer Paint is a superior antifouling paint because the release of biocide is chemically controlled, not physically controlled like controlled solubility copolymer paint. The advantage to using controlled solubility copolymer paint is that the boat can be hauled and relaunched without repainting because the biocides only activate in water.

Hybrid Ablative Paint releases biocide like a self-polishing copolymer ablative, but has more hardness similar to a conventional antifouling paint. Hybrid bottom paint can be burnished for extra speed and is perfect for a racing boat that requires added speed, might remain in the water for a time, but will also be trailered.

Hard Antifouling Paint is also known as contact leaching paint. The hard paint dries as a porous film that contains biocides which leach out as they come in contact with water. High cuprous oxide (copper) is used in the paint to retard the marine growth on the hull. The leaching process starts at a very high rate, and gradually slows down until there is no active biocide available. The remaining hard paint film then remains intact until sanded off. Biocides will no longer released because they have been exhausted limited the protection of the hull. Hard paints are perfect for boats that run at high speeds (over 30 kts) or for boats that are left in the water for extended periods of time.


Single-Season or Multi-Season Paints

As the name implies, single-season antifoulants are intended to work for a single boating season, which can be shorter in cooler climates. Multi-season antifouling coatings are intended to work for more than one season, and are typically more expensive than single-season antifouling coatings. Depending on how often you use your boat, a multi-season antifouling paint might be more cost-effective.


Solvent vs Water-Based Paints

Depending on environmental regulations, and your own preference, water-based antifouling paints have the benefit of low VOCs (volatile organic compounds), less odor, and easier cleanup.


Biocide Type - Copper or Copper-Free

Even though today's antifouling paints are less toxic compared to the old tin-based paints, copper-based paints are still not eco-friendly. Biocides are the ingredient in antifouling paint that deters the attachment of hard biofouling organisms such as acorn barnacles and zebra mussels; algaecide discourages slime and weed fouling.
Copper is the most popular biocide in antifouling paints. You might also see paints with Econea, which is a copper-free biocide that, once cured, dissolves easily in water, the byproducts of which are biodegradable. Environmental regulations and/or personal preference may dictate whether or not you choose a paint containing copper-based biocide. In the future, you will probably see a shortage in paints with high concentrations of biocides because of tightening environmental regulations.


Paint Compatibility

If you decide to paint over existing paint and not remove all the paint layers first, make sure the new paint is compatible with the old. For example, you can't apply vinyl paint over non-vinyl paint because vinyl paint contains powerful solvents that will cause non-vinyl coatings to detach. Here are some general guidelines for antifouling compatibility, and how to prep the surface properly before apply new antifoulants.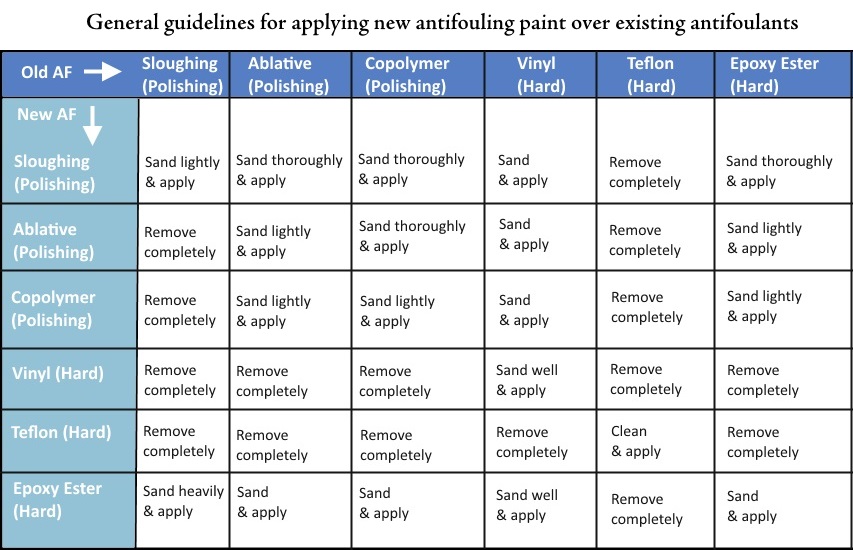 How Do You Choose the Best Bottom Paint?

There are many ways to find out what boat bottom paint is best for your boat. Start by answering the following questions:
Will you be painting a power boat or sail boat?
Will the boat be in salt water or fresh water?
How heavy are the fouling conditions in your home waters?
Will your boat be in the water year-round or will it be trailered?
How often will you use your boat?
How often do you want to paint?
What material is your hull made of?
Do you want an environmentally friendly paint?
Once you have the answers to these questions, you're ready to talk to your local boaters or marinas to find what paints they find to be effective. You can also call (800) 497-0010, and talk to one of our bottom painting experts.

Having trouble choosing an antifouling paint for your boat? Take a look at the table below for help.
TotalBoat Bottom Paint Comparison Chart
* Krypton provides full-season protection in salt water, where the water flow is unrestricted. It can provide multi-season protection in fresh water conditions.