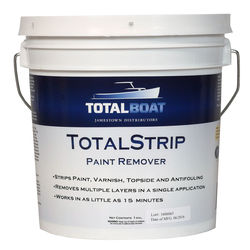 TotalBoat TotalStrip can be applied to painted metal, wood, stone, and gelcoat/fiberglass surfaces.
Use it to remove paint (including tough boat bottom paints), varnish, stains, and lacquers. Its unique gel formula won't sag or drip on vertical surfaces. For best results, apply it from 1/4'' to 1/2'' thick. The more layers of paint you're removing, the longer you should leave TotalStrip on the surface.
TotalStrip is biodegradable, non-flammable, environmentally safe, and odor-free. In addition, no acid wash neutralization is necessary because TotalStrip contains no methylene chloride or caustic agent. Simply use water for cleanup and allow the surface to dry.