Surface prep for hand layup depends on what kind of layup you're doing, such as preparing a surface for a repair or preparing a mold to create a composite part. A 'mold' can mean a few different things:
Male or female mold used to create a composite part (such as an anchor locker hatch)
Flat surface used to create a composite part (such as a hard top)
Flat surface on which reinforcement fabric is wet out before it's applied to a boat (for building or repairs).
If you're using a mold, there's an additional step that makes the cured part easy to remove. Basic surface prep includes sanding, masking, wiping, and, if using a mold, applying some type of release agent.
SAND: Use 40-80 grit sandpaper to rough up the surface either by hand or with a power sander. If you're not using a dustless sander, use a vacuum cleaner to remove sanding dust.
MASK: Use quick-release masking tape to mask off the area; use poly sheeting to cover any areas you want to protect.
WIPE: Remove any sanding residue, oil, dirt, or grease by wiping the surface with a clean lint-free rag wetted with the solvent recommended by the resin manufacturer (usually acetone or denatured alcohol).
PREPARE THE MOLD: Use a clean lint-free rag dampened with acetone to wipe down the mold, removing any surface contaminants. Next, apply a mold release wax according to the manufacturer's directions; buff. Or, apply a thin coat of PVA (polyvinyl alcohol), which is like liquid cellophane. Either wax or PVA will make the cured part easy to remove.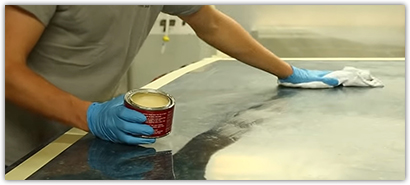 Applying mold release wax