YOUR MOELLER PROMISE: Every piece has been pre-inspected to guarantee full range of calibrated readings and designed for gasoline applications. You can also use diesel if a separate return line is available. DO NOT USE WITH WATER. For your safety and for best results, read the following instructions completely before installation.
Before You Install:
Organize all the hand tools you'll need to complete installation: a tape measure, torque wrench, phillips head screwdriver, and a hacksaw. IMPORTANT: AVOID USING POWER TOOLS AROUND FUEL VAPORS, WHICH ARE EASILY COMBUSTIBLE.
Replace an existing fuel sender by removing the old unit. Note the direction of movement of the old float arm to assist installation.
Position new unit above tank, aligning the screw hole pattern in the mounting flange with hole pattern in top of tank.
Observe the direction of float arm movement. If arm position causes it to hit tank wall, you must rotate the sending unit (see next step.) If arm moves freely, proceed to "NEED TO ADJUST BRACKET" or "NEED TO ADJUST FLOAT ARM LENGTH." NOTE: FOR SENDING UNITS WITH ADJUSTABLE BRACKETS, FLOAT ARM MOVEMENT OCCURS ON GROOVED SIDE OF BRACKET AWAY FROM MOUNTING PLATE.
Rotate the sending unit by loosening the brass nut on top of the five-hole flange approximately 1/8" (3.25 mm) (see Figure 1). Do not remove.
Push on end of screw gently while holding mounting plate still. This will dislodge center square located at screw base, allowing assembly to move freely.
Turn screw assembly in 90° increments until float arm is situated to clear tank wall. Push mounting flange back onto center square.
Tighten nut at top of sending unit to 15 inch pound using a torque wrench.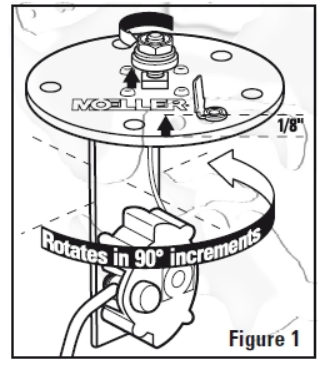 Adjusting Float Arm Length
Determine proper float arm length by measuring tank depth (from inside bottom to outside top of tank, - 1/2"; example: measurement equals 24", proper float arm length is 23-1/2".
Slide float arm through the float arm clamp assembly (see Figure 2) until the correct float arm length is reached and you have at least 1" of arm overlap at the clamp assembly point.
Note: The float arm length measurement is determined by measuring from the bottom of the mounting plate to the end of the float.
Mark float arm placement carefully.
Cut the float arm attached to the sending unit at the determined length. Note: Leave at least 2" of arm length attached to sender. Cut any additional length from the arm attached to the float.
Secure float arm into position by firmly tightening the assembly screw.
IMPORTANT: DO NOT BEND FLOAT ARM. THIS COULD CAUSE THE SENDING UNIT TO MALFUNCTION.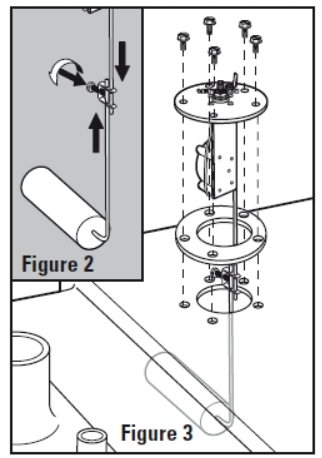 Proper Sending Unit Tank Installation:
Carefully slide gasket over float arm and sending unit assembly.
Align 5-hole screw pattern in gasket with that of mounting flange, placing gasket flush against underside of plate. NOTE:THE SCREW HOLE PATTERN IS NOT SYMMETRICAL, THERE IS ONLY ONE WAY TO PROPERLY ALIGN GASKET (see Figure 3).
Install your electric fuel sender, gently inserting float arm into tank followed by sending unit. Align screw holes between gasket, mounting plate and tank.
Secure sending unit to tank, tightening mounting screws into place just until white sealant shows beneath the screw head. DO NOT OVER-TIGHTEN. THIS WEAKENS THE SEAL.
For a NO LEAK install, a leak test of this area should be conducted by pressurizing the tank to 3 PSI. Then look for bubbles using soapy water (see Figure 4).
IMPORTANT: IF UNSURE OF THIS OR ANY OF THE DETAILED PROCEDURES, SEEK PROFESSIONAL ASSISTANCE.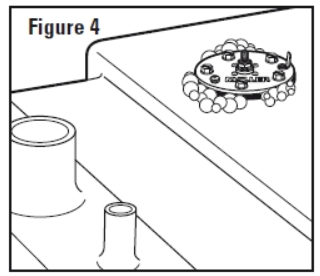 Proper Wiring Installation (See Figure 5):
Connect sender wire from fuel gauge to the threaded screw terminal on sender.
Connect ground wire to 1/4" fasson terminal on sender. GASOLINE IS EXTREMELY FLAMMABLE! KEEP TANK AREA FREE FROM SPARKS AND FLAMES. EMPTY TANK OF FUEL AND FUMES BEFORE CONTINUING WITH INSTALLATION.