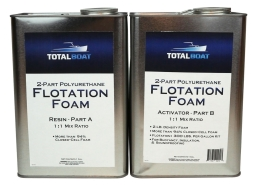 Pourable polyurethane foam is a 2-part expanding foam that has a simple 1:1 mix ratio which makes it very easy to use. This versatile expanding foam is available in different densities that are ideal for a number of uses. At Jamestown Distributors, we carry the 2 lb. and 6 lb. density flotation foam products.
Uses for 2 lb. Density Flotation Foam
Lightweight, great for filling non-structural voids. Rigid cured foam is also used to make lightweight core blanks for sailboards and surfboards, provided that sufficient lamination strength encapsulates it.


Filling cavities beneath decks to provide flotation. Will take the shape of the cavity or form it's poured into. Cures to a closed-cell foam ideal for marine applications because it resists water absorption for many years. Closed cell means it will maintain buoyant pressure even after prolonged exposure to water. It has the water-resistant properties to keep a capsized vessel floating for long periods of time.


Excellent thermal insulation and sound deadening. Ideal for soundproofing and insulating in marine and household applications.
Uses for 6 lb. Density Flotation Foam
Creating male molds or plugs for laminating. Once fully cured, this foam can be laminated over with any type of polyester, epoxy, or vinyl ester, which will not melt the cured foam.


Creating sculptural forms, casting, and carving. Cured foam is easy to carve to shape.


Flotation foam - It can also be used to make buoys and floating markers provided they are encapsulated in UV-resistant material.
Filling cavities to support heavy loads, due to its high compressive strength.