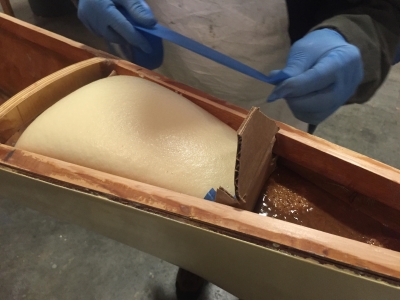 Flotation foam expanding in the bow of a kayak. In the forward compartment, flotation foam has just been poured and expansion has not started yet.
Preparation Tips
Before mixing this product, several considerations must first be addressed:
Temperature - This product should be mixed and applied at room temperature—75-80° F is optimum. If conditions are too cold, the reaction is inhibited; the urethane will shrink back after rising, losing much of its insulating and flotation strength.


Preparedness - Polyurethane expanding foam must be poured immediately after a quick mixing. The area to be filled must be accessible and prepped ahead of time, which may require drilling holes in advance. To ensure proper bonding, the surface should be clean of contaminants for proper bonding.


Overflow relief - Polyurethane foam will expand tremendously, by volume. In doing so, it can exert as much as 5 psi of pressure in contained areas, which is sufficient to lift the deck off a boat if poured into cavities without proper venting. You may need to cut overflow vents over large surface areas, such as decks. This can be accomplished easily with a hole saw.
APPLICATION TIPS
Wear protective eyewear, gloves, clothing protection, and face protection, and be sure your work area is well-ventilated.


The mixing window for polyurethane expanding foam is brief; with larger quantities, a drill mixer may be helpful. Keep a cup of acetone on hand to place the mixer mandrel into immediately after mixing.


Working quickly, mix the two components together thoroughly. Rising will begin immediately and is very dramatic. Pour the mix into the void and leave undisturbed til cured.


The thermal reaction generates heat which can reach temperatures nearing 130° F. Be sure the substrate you are pouring the foam into will not be compromised by this heat. Since this heat is momentary, this poses no problem for polyester, vinyl ester and epoxy laminates.


If filling large areas, pouring consecutive batches before the first gels will maintain a chemical bond between layers. Urethane foam will also adhere mechanically to it's cured form, so don't sweat it if consecutive pours are impractical.


Care should be taken in estimating the proper amount to mix for a given application. Different densities of foam expand to yield different volumes. Read the foam manufacturer's instructions carefully to determine how much you need to mix at one time.


Polyurethane foam has very poor UV resistance. If used in areas exposed to sunlight, it must be painted or laminated over.