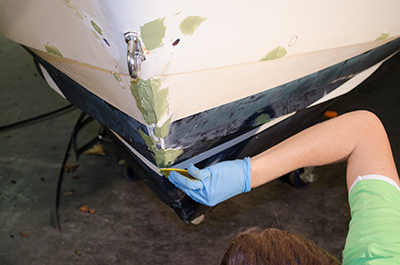 TotalBoat TotalFair should not be used in temperatures below 50°F. The application temperature range for applying TotalFair is 50-90°F. Though you can use TotalFair in temperatures as low as 50°F, we recommend using it in temperatures toward the higher end of the range because it'll be easier to mix and apply with a plastic spreader. In addition, epoxy needs heat to cure, and will cure faster in higher temperatures.
Before use, store TotalFair at 60-90°F, in a dry place. After use, reseal the resin and hardener containers tightly. If storing TotalFair for an extended period over one month, we recommend covering the resin and hardener with plastic wrap before closing the lid to help retain consistency and shut out contaminants.
Storing TotalFair in temperatures below 60°F can result in crystallization, which can be fixed. A crystallized resin or hardener can be returned to its original state by placing the sealed tub of TotalFair into a few inches of water heated to 150°F, and adding hot water, as needed, to maintain the temperature at 150°F. You can also place the tub of TotalFair into a zipper-type plastic bag and remove all of the air in the bag before placing it in hot water.