To repair deep rot, you need to seal the wood with a low-viscosity liquid epoxy to stabilize it (which stops the rot from spreading), then reshape and missing or damaged wood with an epoxy putty.
STEP 1 - Seal the wood: use a penetrating epoxy to consolidate soft or punky areas. Penetrating epoxy has a very low viscosity that cures to a flexible material that allows the wood expand and contract naturally. Penetrating epoxies can typically be thinned for even deeper penetration. Be sure to read manufacturer's directions, as all penetrating epoxy formulas are different.
Product examples include TotalBoat Penetrating Epoxy and BoatLIFE GIT-Rot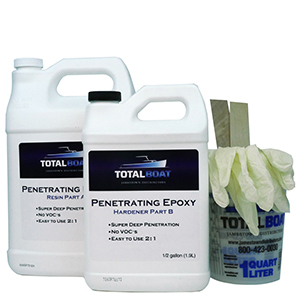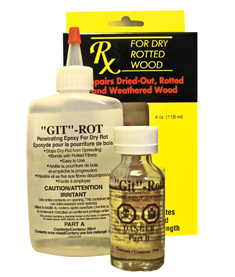 STEP 2 - Reshape the wood: After the rot is sealed, use a wood-colored, sandable epoxy putty to fill in and reshape any damaged areas. This type of putty is made especially to repair damaged wood, has a color tone similar to some lighter-colored wood species. It can be easily molded by hand (wearing disposable gloves), and it is super easy to sand, once cured. Typically, the putty is applied while the penetrating epoxy is still tacky, to ensure maximum bonding strength, but always check the manufacturer's directions before application.
TotalBoat FixWood 2-Part Epoxy Putty is ideal for repairing and reshaping missing or damaged wood on door & window frames, deck boards, and trim. FixWood cures overnight to a hard surface that's easy to sand, carve, fasten, or machine.