Boat trailers spend enough time in the water to cause rust and corrosion, so it's important to choose the right paint. And you don't have to spend a lot of money to get a nice paint job.
Keep in mind that paint should not be used to hide rust or bad welds. Before painting, rust should be treated with a product such as Ospho Rust Treatment or TotalBoat Rust Primer, and prep the surface properly before painting. Here are some good, durable paint choices for a metal boat trailer:
Rust-Oleum Cold Galvanizing Compound Spray (Gray)
Hammerite Galvanized and Aluminum Primer and Hammerite Rust Cap paint
A Preval sprayer is perfect for painting a boat trailer or any other paint job you might have because it's easy to use, and easy to clean.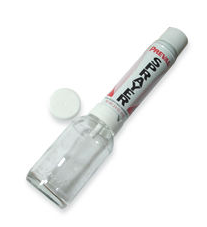 These convenient hand-held portable sprayers can atomize any paint consistently, even water-based paints, and can hold up to 16 oz. at a time.