Fiberglass woven roving is continuous fiberglass fibers woven into a heavy-weight fabric. It can be used with most resin systems and provides excellent tensile strength and impact resistance.
Woven roving is the primary strength material used in fiberglass boatbuilding. 18 oz. per square yard material wets out easily and is usually used between layers of mat for strong laminates.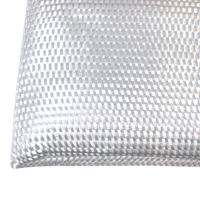 It can also be used with chopped strand mat between layers to fabricate strong, large-size objects, such as a boat, vehicle components, pressure tanks, etc.