Fiberglass woven roving is available in two different weights: 18 ounces and 24 ounces. This number of ounces refers to the weight of the cloth per square yard.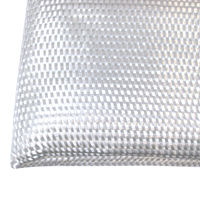 To find out how much resin you need, first find out how much woven roving you need by calculating the total surface area (L x W of all surfaces you need to cover with woven roving) to figure out the total weight of the woven roving.
Once you have that number, it requires a 1 to 1 ratio of resin weight to fabric weight to wet out woven roving. For example, if you need to wet out 3 square yards of 18 ounce woven roving, the total weight is 54 ounces, so you need 54 ounces of resin to wet it out.