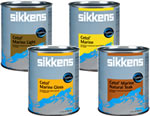 Generally, Sikkens Cetol® is a translucent, tinted marine wood finish. The more coats you apply, the more present the color tone will be on the wood. Cetol comes in four different finish options.
Important Cetol Application Notes
Cetol Marine Gloss and Marine Light are not for use on decks, as they have a glossy finish, which can become a very slippery surface when wet.
Marine Gloss is a clear gloss finish that is not designed to be used by itself, but over one of the other finishes. It is recommended to apply at least two coats of Cetol Marine, Marine Light, or Marine Natural Teak before applying Marine Gloss, if that is the desired finish.