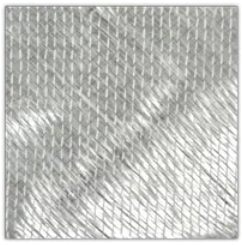 Fiberglass derives its strength from the direction of fibers. Unidirectional (nonwoven) fiberglass cloth is much more efficient than woven fiberglass cloth. The fiber tows (bundles of continuous filaments) are positioned in various orientations to the fabric edge, and all the fibers run in the same direction.
Fiberglass biaxial cloth (also called biax, dual bias, or double bias) refers to 2 sets of straight unidirectional cloth held together by light nylon stitching. This stitching does not affect the structural integrity of the biaxial cloth. Biax is available in different orientations, including +/- 45°, 0/45°, 0/60°, 0/90°, etc.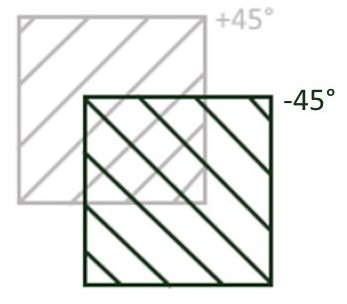 Above: +/- 45° biax has fibers rotated on a 45° angle from vertical and horizontal
The flat non-crimped fibers yield reduced print-through and higher stiffness than woven fabrics.
Biaxial cloth comes in fiber choices other than fiberglass, including carbon fiber, aramid, & hybrids.
Biax comes in different weights, for different uses.
Nonwoven fabrics (such as biax) are more efficient in layups because they lay flatter and carry loads more efficiently.
Biax and other multi-axial fabrics (e.g. triax, quadrax) use less resin to wet out than using separate layers of unidrectional fabric.
Biax is available with and without mat backing.
Some biaxial cloth has a mat backing (known as CSM, or chopped strand mat) to which short fiberglass strands have been attached with a styrene binder. The mat backing adds extra thickness and creates a smoother finished product when applied over scratches and dents. This cloth is ideal for repairs, tabbing, and reinforcing.
For biaxial cloth backed with mat, polyester or vinyl ester resin is typically used for wet out because the solvent, styrene, in these resins dissolves the binder in the mat backing and wets it out completely. Epoxy resins are also used to wet out and laminate biaxial cloth.