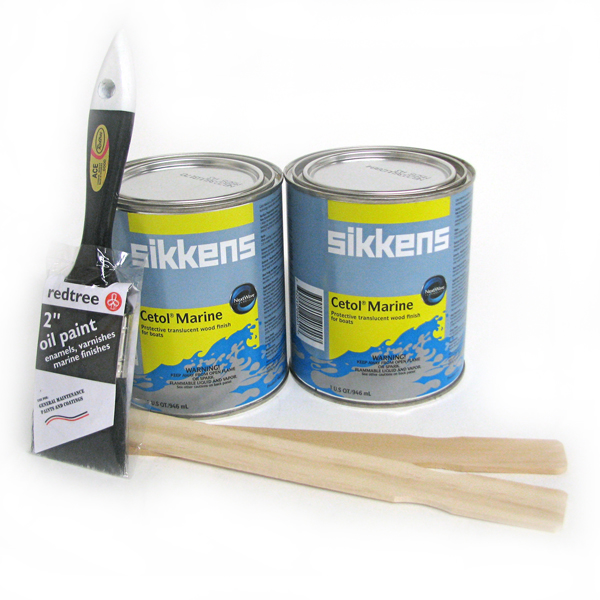 Products like Sikkens Cetol, TotalBoat Marine Wood Finish, and Pettit SeaGold provide a faster, easier way to protect and beautify wood compared to traditional varnish. We are often asked whether Cetol and similar products are compatible with varnish, whether Cetol can be applied over existing varnish, and whether you can varnish over Cetol.
Cetol over varnish?
Before applying any of the above "varnish-alternative" products, existing varnish finishes should be completely removed by sanding wood bare (using 120-220 grit sandpaper), or using a chemical finish remover followed by sanding.
Marine wood finishes like Cetol and TotalBoat Marine Wood Finish can be used over oiled woods such as teak, if the finish in good condition. If the finish is grayed or weathered, recondition wood using a teak cleaner and sand out to 220 grit. Do not apply Pettit SeaGold over oils.
In all cases, be sure to remove any sanding residue with a rag wetted with mineral spirits prior to applying Marine Wood Finish or Cetol.
Varnish over Cetol?
Both Cetol and TotalBoat Marine Wood Finish are intended to be complete 'systems', where one finish is used to create the pigmented finish, with a clear finish applied over it for depth and protection. An example, applying Cetol Marine Gloss over Cetol Marine Natural Teak on teak handrails.
While some customers have reported good results applying 1-part polyurethanes over marine wood finishes, we do not recommend using traditional varnish over any of the 3 wood finishes referenced here. The exceptions are Epifanes' Rapid Coat and Rapid Clear finishes, which Epifanes specifically references as compatible with varnish.